DGB: Desi Girl Boss by Dipali Patel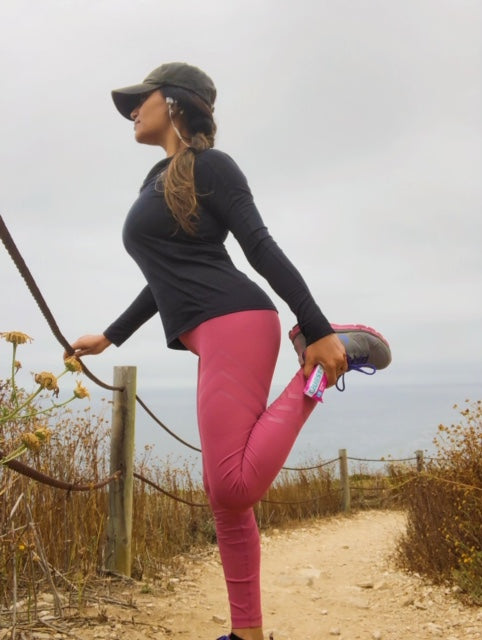 Growing up in an Indian Society I saw my parents work their butt off but at the expense of being there for their families. I never had the heart felt talks you saw on Full House (or now Fuller House lol) – yes I'm that old! Nor did I have parents attend school events or frankly even saw them enjoy outings with the exception of weddings. I don't think I ever saw my mom having a "ME" day. Like was there such a thing then? Any who, seeing all that growing up I think helped shape who I've become and helped prioritize what's important to ME. 
So a little about me…
Let's get the small stuff out of the way as I'm sure everyone is eager to know: I'm 40, divorced, single mom of 2 wonderful boys (14 & 10) and an entrepreneur. I'm also a marathoner, gym rat, wanna be social media influencer, secretly living my dream to model (who isn't now a days!) and all-around DESI! Pair all that up with being in an Indian society and soon you'll find yourself trying to balance the mental, emotional and physical self. I wish I had a quick fix solution or formula to answer or address how to handle this situation, but I don't. I struggle every day just like all parents around the world. 
How I manage-d (or survive-d)…
When I was married (13 years), I lived in a joint family. I had to take care of everyone's needs while working a corporate job. Before kids, every day was about making lunches/dinners (and I mean gourmet Gujarati dishes daily for 10 people!), cleaning the house picking up after everyone, and tending to guests. There was little time for myself or my new relationship. I found myself needing to please everyone and neglecting myself. I started gaining weight and having a negative outlook in life. My career wasn't moving forward also – how can it when I was busy making 3 dozen rotis (insert shocked emoji). At that time, what kept me going was my faith in GOD and my FAMILY. Sounds like a Hindi movie, right?!? LOL. Fast forward to after having kids and my own business, I learned to stop caring SO much about everyone but still stayed respectful enough to maintain and do the things that were my responsibility. I learned to focus on myself by hitting the gym, surrounding myself with positive people, and learning to walk away from things that are toxic. I started channeling my energy elsewhere. 
Now, I raise my kids on MY OWN, manage my business, and am fitter than I've ever been in my life. Every day I wake up happy to be alive. So how am I doing it all? 
Survival Tips: 
Time Management: realizing that some things just are not worth the time. I try to attend as many kids school activities as possible and do fun things with them. I TRY to limit wasting my time on things that are not productive. This is so hard guys trust me! Social media alerts help! This also means giving up events. 
Scheduling: Calendars are my BFF. Everything is planned on my phone and planner. For example, tom I'm washing my hair. I have a calendar on my fridge with meal plans for myself and kids (we discuss together so there's no issues) and I typically meal prep 2 x a week. Knowing that I don't have anyone to help me somehow makes me better even though it is HARD as heck – because I'm not dependent on anyone.  
Mental Preparedness: For me this means, allowing yourself to prepare for kids reactions when there are things you know they will argue about – this way I don't snap back – although it's tempting and yes I do sometimes do it. This also means I look at everything I have going on the night before and taking it all in before going into stress zone. Literally just breathe through it. Podcasts help me a lot with this! 
Self Care: This is my #1. I am notorious for finding ways to incorporate a workout anywhere and anytime. Follow my IG (@adashofdip) and you'll see. Not only for the physical benefits but I have more focus and clarity on work and I can handle stress or kids in a more positive way. I also take time to look pretty, wear nice clothes everyday even if I'm not going anywhere – Dress for success!, get massages, get nails done, etc etc. Point being, don't neglect yourself in the process. 
Take home message: 
Life is tough – no matter what your situation. You can either b**** about it and keep complaining or find ways to make life easier. This starts with YOU. You cannot take care of anyone or anything until you've found peace and balance with yourself. Start there and see where life take you. 
- Dipali Patel (@adashofdip)