Flawless Friday - Arooj Khawja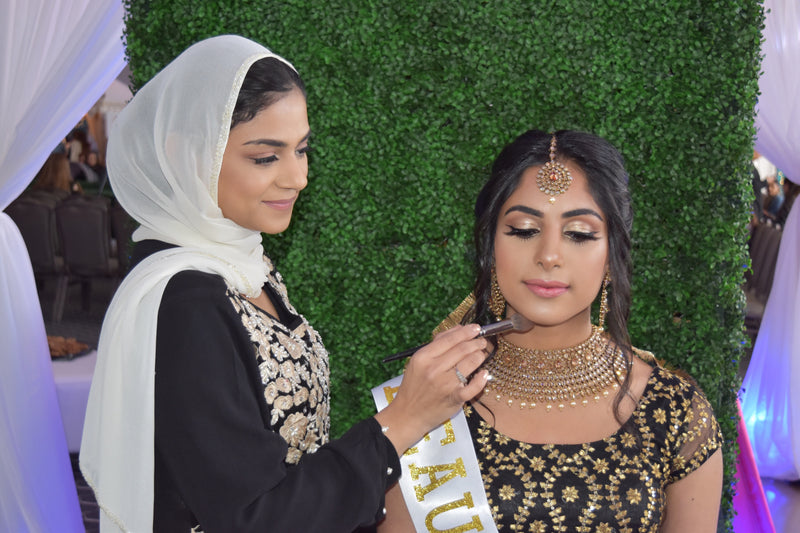 How did your career start as a makeup artist? What inspired you to become a makeup artist?
I always had an interest in the field of arts and loved making portraits. However, I chose a different career but felt something is missing. I used to enjoy doing makeup on my friends and family and always looked forward to glam them. I started out my professional career as helping a friend at a shoot doing makeup for her. After having very positive feedback, it encouraged me to pursue it further. I started taking classes anywhere I had an opportunity. I would try to soak up whatever I could and then test it out to see if it looks great. I always idealized Tammana, dressyourface and I would look at her Instagram and see how flawless her contour and highlight looked and I used to try to recreate that. Tammana then offered online classes which I enrolled in right away and then enrolled myself into DYF academy to take her one-on-one class to get first-hand knowledge from the best!
 What is the most important quality in a Makeup Artist?
 There is a number of qualities that I believe that a makeup artist should possess. Being patient, being able to work under pressure, and understanding what the client wants are to name some. Also, understanding different skin tones and individual's undertone, and having the knowledge of working with cool and warm tones is also very important. Another most important quality is the willingness to learn. The beauty industry is always changing and being able to keep yourself updated with the latest trends is the key for meeting client's expectations.
 How do you respond to the client that is not happy with their final look?
 I try to always be professional and keep a very positive attitude from the beginning. I also make sure that I understand the client's expectations by being an excellent listener, so there isn't a possibility of misunderstanding in the first place. In case of still not being up to the client's standards, I keep my attitude positive and always listen to what they don't like and make sure to change what is making the client unhappy before moving to my next client. It always gives me great pleasure to work and be able to glam and make sure my client is happy.