Flawless Friday - Saba Jawad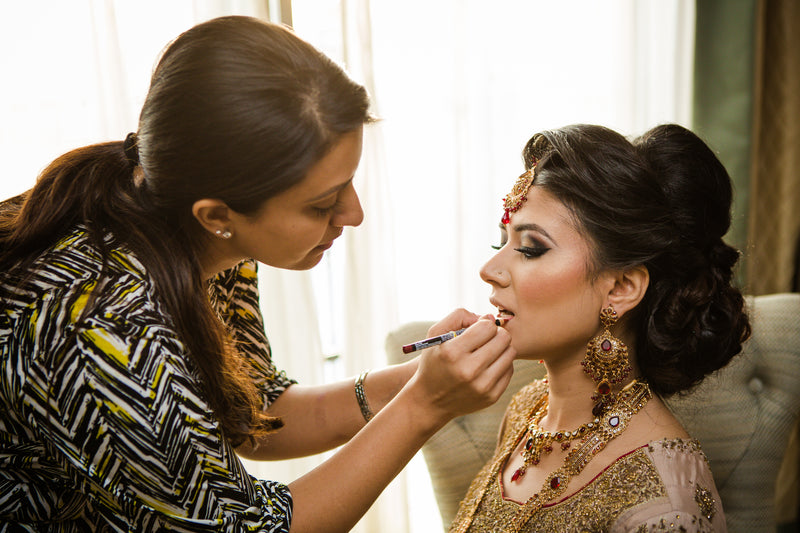 What inspired you to become a makeup artist?
I have always had a strong passion for all that glitters and have been a makeup and beauty addict for as long as I can remember. I grew up always playing the part of hairdresser or makeup artist for my friends and family, all throughout my teenage years. From high school prom to my cousin's and sister's engagements and pre-wedding festivities; I was always so excited and honored to be the one they turned to for help!
I have come a long way from playing dress-up and dolling up my supportive friends and family with my amateur makeup collection. In fact, I had never imagined my interest in makeup and hair would lead me to pursue it professionally as a freelance artist.
My very first big break was from my husband's longtime coworker. She entrusted me to be her makeup artist for her wedding! I was so ecstatic that she chose me to do makeup for herself and her bridal party on her special day! Things eventually just started falling into place from there. With the help of social media and referrals, more friends started contacting me for their wedding makeup needs. I will always be grateful to Katie and my long-time college friend for trusting, supporting, and encouraging me to follow my dreams and turn it my hobby and passion into a full-time career!
I have now been doing special event makeup since 2014 and more recently have specialized in bridal makeup and hair design. I have taken specialized one-on-one courses for bridal makeup and am a Certified, Pro Makeup Artist in the Atlanta area.
How do you prepare different skin types before applying makeup?
There are so many unique skin types for individuals out there. An artist has to be careful to ask the right questions, as well as visually assess the skin condition of the client. A client may have mature, dry, sensitive skin or acne prone, oily skin and maybe rosacea and an uneven skin tone.
As an artist, I always start out by treating and prepping the skin to suit the needs of the individual client and their skin concerns. This can mean starting with exfoliation and light moisturizers too heavy, creamy moisturizers or even oils for very dry skin. It is also essential to use the right primers to moisturize or color correct the skin tone, or smooth the appearance of texture and pores on the surface in order to achieve the best possible makeup application!
A makeup artist should also apply appropriate under eye creams and lip treatments before beginning the makeup application.
How do you respond to a client that is not happy with their final look?
I have been very blessed to have satisfied clients and brides that are completely satisfied with the service they received. I often get the sweetest emails, texts, and gifts from my clients and brides for making them feel their very best on their special days!
In case I ever have someone who is unhappy or not 100% satisfied with their final look, I would definitely handle the feedback with maturity and a calm demeanor. It is important to understand the needs of that client and adjust the look to their liking; whether you may agree or not. After all, it is their event or their special day, so you want to make sure you do your very best to satisfy them with their final look!
An artist has to be patient, a good listener, and a flexible person to work with such a wide variety of clients with very specific needs.