How To Style The Magazine Set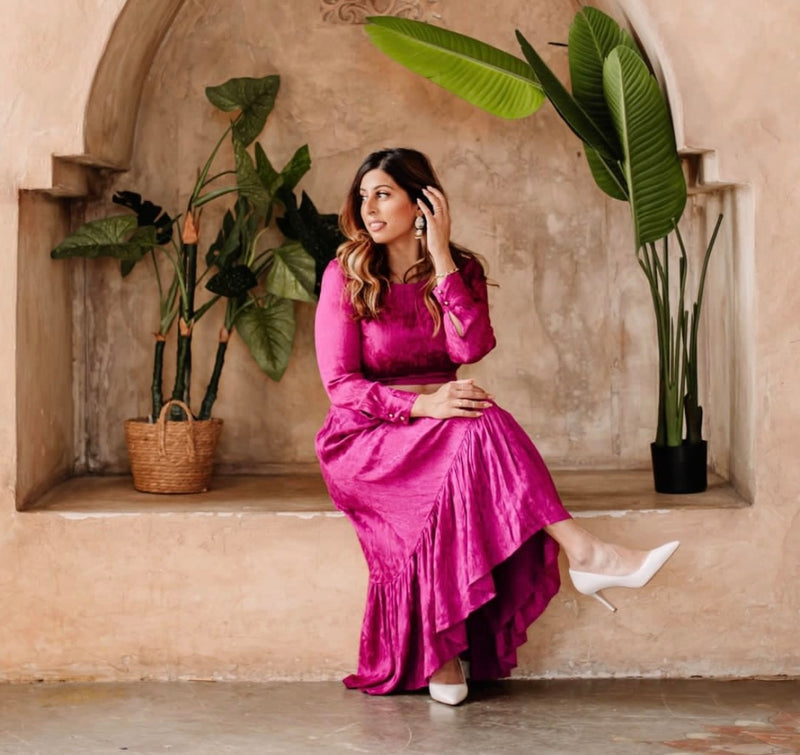 This week, we shared with you one of our newest launches from the Capsule Closet Collection - The Magazine Set. Crafted in a rich magenta fabric, the set features a full sleeved crop top with a high waisted skirt, both of which can be worn just as it is or - like the rest of our pieces - paired with other items from your closet. The set is also designed to make you look and feel comfortable, modest and elegant - which means you can wear it for everything from a desi wedding party to a family dinner.
Read our ideas for styling the set below:
You can wear the Magenta Set just as it is - pair with your favorite accessories and the outfit is perfect to be worn for any occasion where you want to keep your look easy, chic and elegant. The ruffle at the bottom also adds a fun twist to an otherwise simple silhouette.
Pair the top with your favorite saree or lehenga and you have a look that is perfect for any desi event. The classic silhouette along with the rich color makes it the perfect canvas for you to layer any heavy pieces on.
Pair the skirt with a white blouse for an elegant and polished look. We love to spice up this look with some classic gold jewelry - desi and contemporary - always a favorite!
How would you style the Magazine Set? Share your looks with us @desieverafter x