The Desi Wedding Guide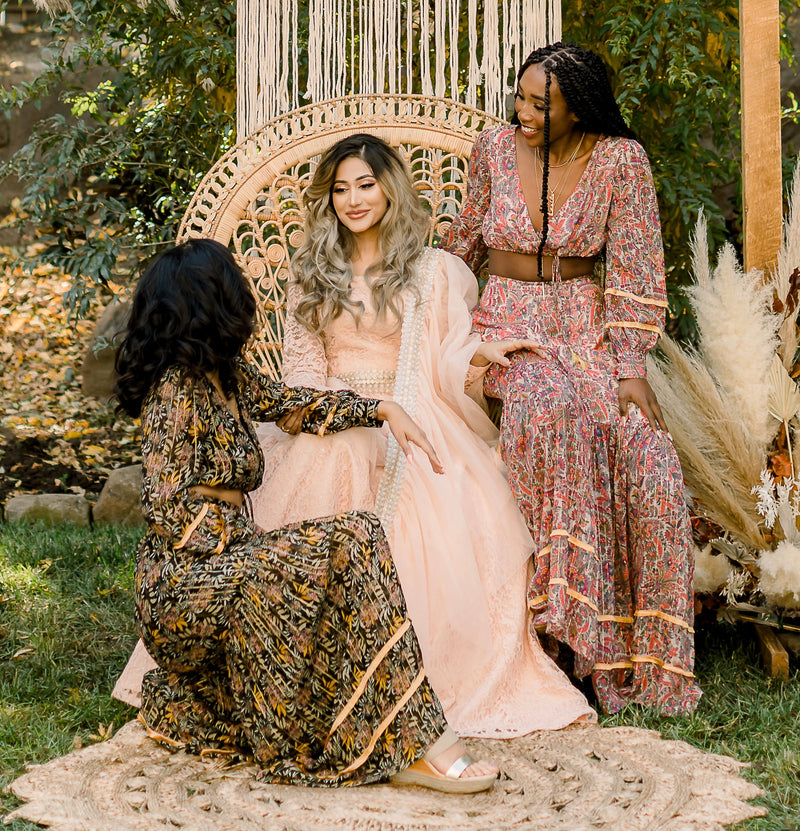 If you have a ton of weddings to attend this summer and are not sure of what kind of outfits to wear to the many events that are a given at any desi wedding, we got you! Check out our guide below for a brief on each event and the outfits that you can wear to all of them!
Mehendi + Sangeet
The mehendi and sangeet are both pre-wedding ceremonies and are usually a time for the couple and their families to get to know each other in an informal setting. For the mehendi, the bride and women from both sides of the families get intricate mehendi designs drawn onto their hands and feet. The paste that is used to draw the designs is associated with positivity and good luck; South Asian wedding tradition calls for the mehendi ceremony to be held before the wedding as a way of wishing the bride good health and prosperity as she begins a new journey.
For the mehendi and sangeet ceremonies, we recommend wearing something light, comfortable and glamorous, such as the Kaftan Dress that comes in a range of stunning jewel tones or the Bhoori Set.
The Kaftan Dress
The Bhoori Set
Pooja
A pre-wedding pooja is a way for the couple to seek the blessings of God and their ancestors as they both begin a new journey together. This is a more formal ceremony and we recommend wearing something that is easy, modest and bright, such as the Firdaus Dress or the Amani Set.
The Firdaus Dress
The Amani Set
Wedding
The many different traditions that are a part of desi culture means that every religion has its own unique way of celebrating the couple on their wedding day. Even then, while some couples might choose to indulge in a big bash with their loved ones, some others might prefer an intimate ceremony with their close friends and family. No matter which one you're invited to, make sure you do a quick background check on the couple before picking an outfit for the wedding.
No matter what kind of wedding you're invited to, however, the Aditi and Alisha Sets ensure that you fit right in.

The Aditi Set
The Alisha Set
Reception
The reception is the post wedding ceremony where the couple and their families get together for an evening filled with music, food and speeches from their loved ones. We recommend wearing something light, easy and chic such as the Aster and Magazine Sets.
The Aster Set
The Magazine Set
What kind of outfits would you wear to a desi wedding?