What Is Ethical Fashion?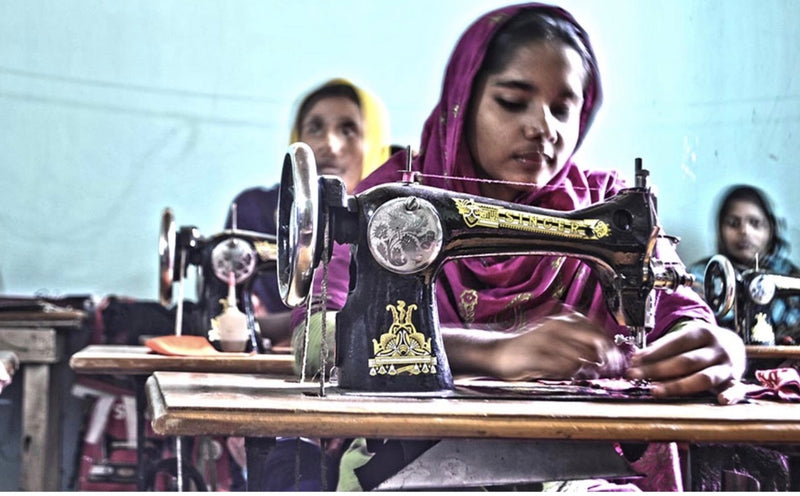 Image courtesy - Eco Warrior Princess
Image courtesy - The Good Wear

'Ethical Fashion is an umbrella term to describe ethical fashion design, production, retail, and purchasing. It covers a range of issues such as working conditions, exploitation, fair trade, sustainable production, the environment, and animal welfare.'
-V&A
In recent years, fast fashion brands have come to dominate a large chunk of the global fashion industry, leading to a significant increase in various issues centered around the fashion industry and its practices with regards to the environment as well as the welfare of its workers. With an increase in globalisation and the availability of inexpensive raw materials, it has become easier than ever to produce and make available clothing that is cheap and attuned to the trend-based culture that has become synonymous with the fashion industry. Some of the problems that have arose as a direct consequence of the fast fashion industry include child labour, low wages, severe environmental damage and animal abuse.
Ethical fashion has emerged as a direct response to combat these issues and refers to a more mindful way of both, production and consumption. More than a directive, ethical fashion can be considered as a set of practices and values that both brands and customers can inculcate in the ways they produce and consume fashion to ensure a sustainable future for all. As a brand, Desi Ever After has been a passionate advocate for ethical fashion ever since the inception of the brand. We ensure that all our pieces are produced in an ethical manner with complete regard for the environment as well as the well-being of those who make our pieces. We also produce in smaller quantities, enabling our customers to buy clothing that is well-made and lasts for a long time. If you are looking for some simple tips on how you can support ethical fashion brands like ours and inculcate sustainable practices, here are some pointers:
-Avoid buying clothing only because it is trendy and/or cheap. Look for items that you can wear and style in multiple ways.
-Do not fall victim to a brand's greenwashing practices. If you sense that something is amiss, use the power of social media to make sure your voice is heard. You can also follow Fashion Revolution USA and The Good Trade for more on ethical fashion brands and practices.
-Choose brands that follow ethical production practices and ensure the welfare of its people and the environment throughout the product supply chain.
-Reuse and restyle your wardrobe as much as possible! You can also consider swapping your wardrobe with your friends or consignment platforms for pieces that you don't use often for an ethical way to enjoy fashion.
-If you have a missing button or broken zipper on hand, look for options on how you can mend it! This can also be a great way to pick up a new activity if you're stuck at home with not much to do.
While it is important for brands to consider ethical fashion practices, customers are also equally responsible in ensuring that they inculcate sustainable practices of consuming fashion to ensure a cleaner future. Do you have any ethical fashion tips for us? Don't forget to share them with us @desieverafter