Desi Weddings - The Jewelry Guide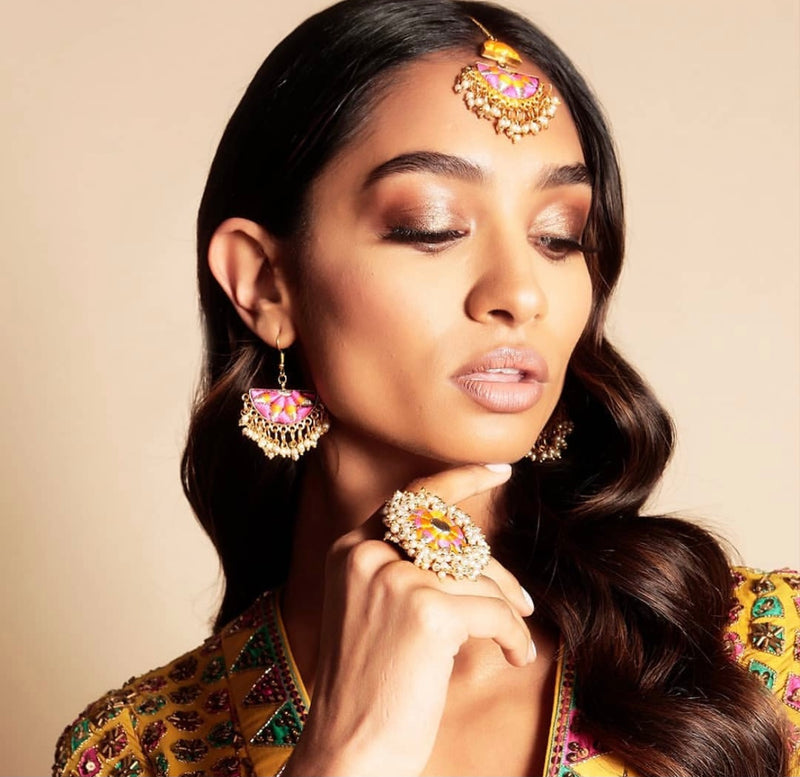 Image courtesy Red Dot Jewels
Got the perfect outfit but looking for jewels to go with it? With our guide below, we have curated a list of some of the best South Asian jewelry brands that will leave you spoilt for choice:
Image courtesy Souk LA
Souk LA is a social enterprise that makes beautiful jewelry inspired by Arabic culture. With every piece sold, the brand also donates a percentage of the proceeds to a number of charitable initiatives, including homeless drives in the Los Angeles area that provide hygiene, care, food and support for those in need.
Souk LA's jewelry pairs beautifully with all our outfits and is the perfect option for when you want to create the modern desi look.
Image courtesy Red Dot Jewels
Attending a wedding and looking for the perfect piece of desi jewelry to go with your lehenga? Take a look at UK based Red Dot Jewels, a fine jewelry brand by entrepreuner Shalini Gupta Patel that offers handcrafted Indian inspired silver and bridal jewelry.
Image courtesy Saeyri
Founded by two Indian women Manasvi Kothadiya and Rujuta Shah, Saeyri is an artisanal jewelry brand that retails modern Indian jewelry handcrafted by Rajasthani artisans in the Indian city of Jaipur. The brand is a favorite of South Asian entrepreneur Deepica Mutyala and makes for the perfect accessory to go with your DEA Kaftans.
Image courtesy Anisha Parmar London
Entrepreneur and designer Anisha Parmar was inspired by her South Asian culture and the diaspora when she decided to launch her namesake label from her studio in London. Anisha makes all her pieces by hand at her studio and her inspirations include South Asian history, festivals and architecture. We especially love the beautiful Mangoes & Marigolds collection!
Image courtesy Hyperbole Accessories
Hyperbole Accessories is a Mumbai + San Francisco based jewelry brand by Gazal Kothari that makes stunning Indian inspired ready-to-wear jewelry pieces, including necklaces, earrings and bracelets. All of Hyperbole's accessories are handcrafted by Indian artisans and are a celebrity favorite; the brand was recently featured in Netflix's Never Have I Ever when actress Poorna Jagannathan wore their pieces on the show.
What is your favorite desi jewelry brand? Let us know @desieverafter x