The Summer Fashion Guide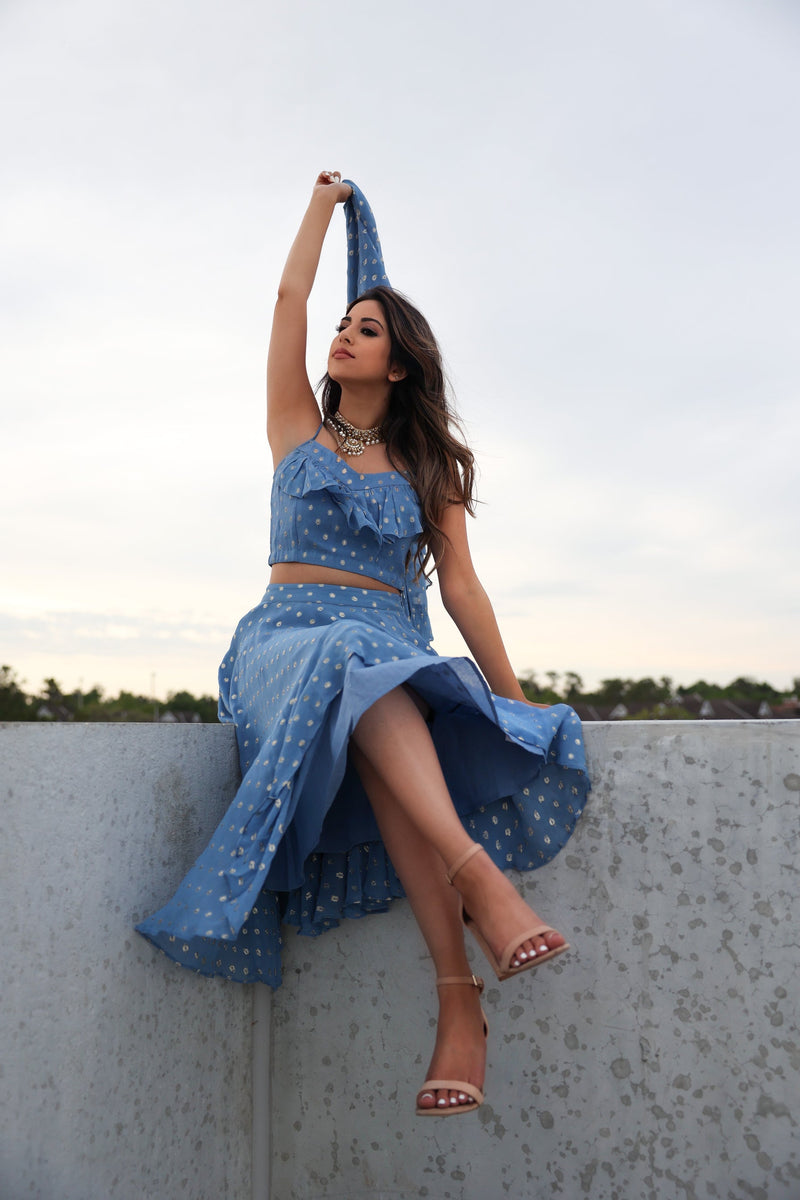 Summer is here and we're sharing some of our favorite summer must-haves with you below! Scroll down to discover all the fits that we're eyeing for the next few months and are perfect to wear just about anywhere - weddings, vacays or to a dinner date!
The Gemstone Blue Kaftan
The Gemstone Blue Kaftan is a tried-and-tested staple piece that is so versatile that you can wear it not only in the summer, but throughout the year. The beautiful high-quality pure silk feels like liquid magic on your skin and the kaftan is cut in a silhouette that is intentionally designed to fit and flatter every single body type.
Wear it to brunch, the beach or your next vacation - we guarantee it'll look good everywhere.
The Khushi Set
A super versatile 3 piece set that is crafted in a beautiful blue, ultra-lightweight fabric, the Khushi Set is our go-to when we need to be both comfortable and stylish. The set includes a fun ruffled blouse, a breezy midi length skirt and a chic dupatta - all designed to be worn together as a set or mix-and-match as separates with other pieces from your closet.
Wear it to: your next desi wedding, a beach vacay or dinner + drinks with the gals!
The Dia Dress
A stunning one-shoulder dress with a full-length skirt bottom, the Dia Dress is equal parts chic and comfortable and is crafted in a delicate blue chiffon fabric with silver foiling that shines and sparkles so beautifully. The dress (like most of our other pieces) is oh-so-versatile and can be worn to a desi event like your best friend's wedding or a housewarming pooja just as is or with your favorite dupatta.
Wear it to: All desi events!
The Baizah Set
The Baizah Set has been a bestseller ever since it launched and justifiably so. Made with a gorgeous foliage-inspired fabric with subtle gold embroidery, the Baizah Set includes a sharara-style pant and a v-neck blouse that can also be worn with your favorite lehenga!
Wear it to: A vacation with your significant other, desi weddings or a quiet evening in.
The Bhoori Set
The Bhoori Set is a gorgeous orange hued 3 piece set that is inspired by the colors of the summer sun and features a blouse, a skirt and a dupatta. Mix and match the pieces with your favorite pieces or wear it together as a set, we love to wear ours with a light jacket and classic heels as a cute date night fit.
Wear it to: Date night, your best friend's bachelorette, all desi events.
Shop all our collections here.